About Combo Rooms
You may have rooms in your venue which can be broken down into smaller spaces, or smaller spaces which are combined into a larger one. You are able to handle these spaces by creating combo rooms.
A combo room is simply a combination of other spaces. Examples are:
A ballroom which, through airwalls, can be one large space, two medium ones, or four small ones.
Tennis courts which can be configured as two basketball courts.
You would like to place house holds on an arena for large touring shows, blocking the entire venue.
A combo can also have only one member room, such as a theater and its lobby, or a meeting room and its pre-function space.
If you are interested in placing house holds, we have an entire article for you! You can check it out
here
.
Let's dig into our ballroom example above. The possible combinations are:
Grand Ballroom
Ballroom A
Ballroom B
Ballroom C
Ballroom D
Ballroom A+B
Ballroom B+C
Ballroom C+D
To add rooms, click on your name in the upper left corner and select
Sys Admin
. In the left nav, select
Rooms
. You must have the Sys Admin role to access this part of the application. Step-by-step instructions for adding rooms are available
here
.
To build combos on your account, always start with the smallest spaces - the ones that can't be broken down any further. So we'll start by creating four rooms: Ballroom A, Ballroom B, Ballroom C, and Ballroom D.
We then create the next step up: A+B, B+C, and C+D. But when we create these, we will check Combo Room and then select the appropriate sub-rooms from the list.
Finally, we'll create the largest space, the Grand Ballroom. This will also be a combo, but it will not be a combo of A+B and C+D - you cannot create combos of combos. Instead, just select all of the individual sub-rooms: A, B, C, and D.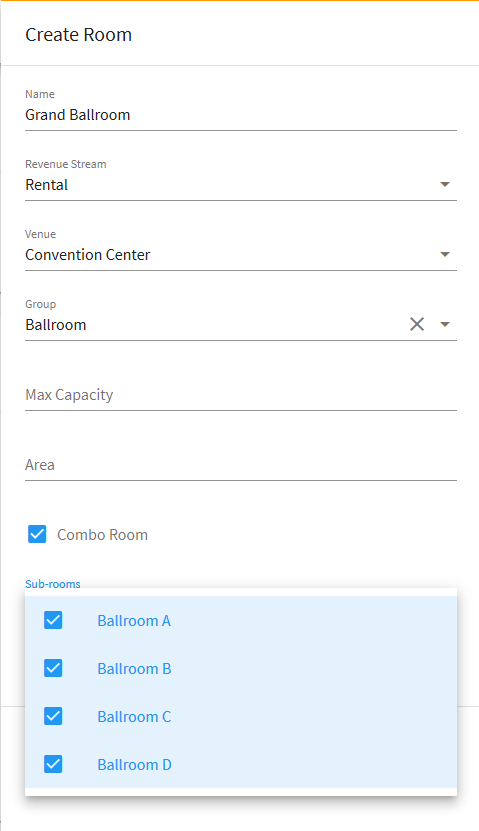 Once all of the sub-rooms and combos have been created, you'll be able to book the appropriate space, and the conflict checker will alert you appropriately. When you book, choose the largest configuration that you'll be using. So if there is a gala dinner in the grand ballroom in the evening but there will be meetings in A/B/C/D during the day, book the grand ballroom. You'll be able to book functions in all of the grand ballroom's related spaces.
Combo rooms can be displayed on the grid and day calendars. Please see this article for more information.
If your venue layout is not as straightforward as our ballroom example, please contact our Client Success team.