November 2020 Update: Instruction Sets, Improved Post-Show Reporting, and a Global Activity Log
Scroll to the bottom to see a demo of these features in the recording of our preview webinar!
New
Instruction Sets
You are now able to build a library of instructions. These instructions will be grouped in sets that can be applied all at once, or you can create a "miscellaneous" set for one-off instructions. The instructions will have a title (required) and can have a description, which you can then edit for each event (similar to item descriptions). These are great for event information such as department instructions/information, vendor information, various policies, and more, and are intended to replace Info Items.
The instruction sets are built in the Inventory & Prices section on the Instruction Sets tab. At this time, permission to the Instruction Sets tab is controlled by the Inventory & Prices permission; users can have no access, view access, or edit access. Applying instruction sets to events is controlled by the Detailing > Edit permission.
For more information, please see:
As noted above, instruction sets are designed to replace info items. Info items are now in read-only mode in the inventory library. They can be used on events, but new ones cannot be created and existing ones cannot be edited. We will be working with clients to make this transition. Please feel free to contact us for more information!
Post-Show Reporting
We have expanded post-show reporting. This allows you to report and create documents with specific information on a per-performance basis, as well as report on information by event. You will be able to create custom attendance types, revenue types, and note sets, as well as add ticket scaling.
Each event can be configured by selecting the relevant types and note sets, as well as setting ticket scaling per performance. Once the show is over, information is added to each performance and documents and reports can be generated.
Please note that if you have performance data in the existing flash report, that information will be converted over to the new post-show reporting feature.
For a complete overview and links to how-to articles, please see Post-Show Reporting.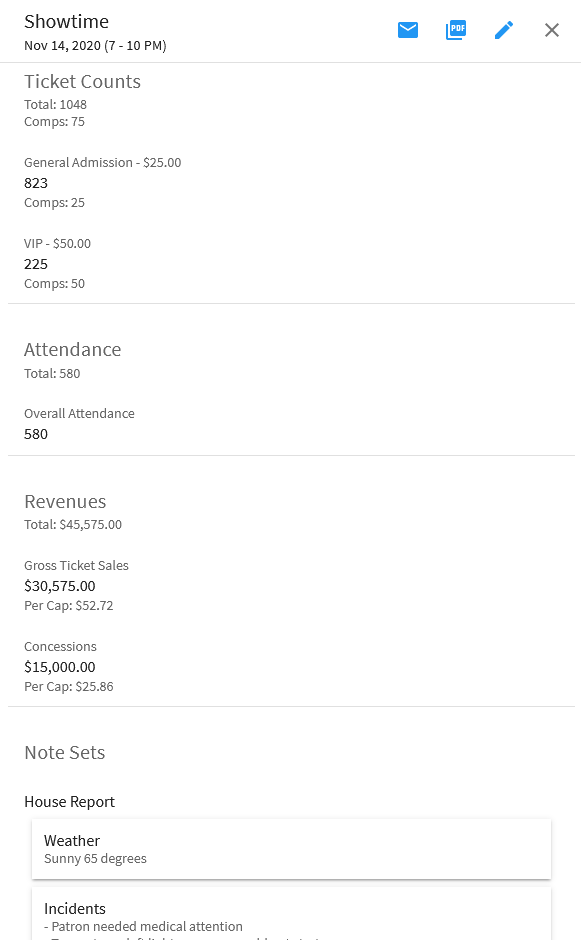 Global Activity Log
We have added a new page to VenueOps - a global activity log.
This page lists actions across all accounts and events. The list is filterable by date the action was taken, who took the action, what action as taken, and venue. You are also able to create saved views, making it easy to create mini-reports to track specific changes. An Excel export is available as well. Some notes:
There is a specific account-wide permission to allow access to this page. We have patched this permission onto user roles that gave permission to either edit events or to access accounts and contacts — but see below about which logs they'll be able to see.
Users will only see event logs for events in venues they have access to.
Access to payment, credit, and refund logs are controlled by the Payment & Credit permission.
We are also tracking additional actions:
Event name changed
Spaces booked at time of event creation
Inquiry created
All contract status changes
Discounts added, edited, and removed
Functions:

Created
Name changed
Room changed
Date/Time changed
Status changed
Removed
For more information about the global activity log, please see Global Activity Log. We also have a new overview article about tracking changes in VenueOps: Tracking Changes.
Improved
Operations View Enhancements

In the new release, VenueOps now allows you to create and switch between saved views just like with the calendar and list views. The permission to create these views is controlled by the existing Saved View permissions. See Create a Custom Operations View for more information.
In addition, you can now filter to only show functions for a particular event.
We've also updated the room filtering so that unselected rooms are completely filtered out, not just the details in that room.
The formatting of the functions and their items has also been updated for improved read- and scannability. Part of that was making function and event names links, allowing you to go straight to their details. Note that if an event has the Hide event details setting on, users without permission to view hidden details will not see the event or function name.

Task Templates and Staff Assignments

Tasks in task templates can now be assigned to staff assignments. Once applied to the event, the task will be assigned to the person designated for that staff assignment on the event and will update if the staff assignment is updated.

Updates to Rental Rates and Function Mass Editors

In order to improve performance, we've made changes to how the larger mass editors work. The sliders we updated are the rental rates slider and the function mass editor on events, and the rental rates slider on price schedules. These mass editors will now load in view mode, which will allow them to load much faster.
Some notes about how these work:


Click a row to switch it from view to edit mode. (The edit pencil icon is there to show it can be edited, but you can click anywhere on the row to begin editing.) When editing, you can use the Tab key to move through its fields. If you Tab to the next row, it will automatically switch to edit mode.
You can also click the edit all icon to change all visible rows to edit mode.
If more than 25 rows are visible, the edit all icon won't display. To get it to appear, you can use the Search field to filter down to fewer rows.
Rows that have been switched to edit mode will always display, even if they don't match the search term. This is to avoid confusion about whether those changes will be saved or not.

Other changes that resulted from these enhancements:

When adding rental rates to price schedules, you'll no longer need to select a venue.
We added a function mass editor to each day of an event. You'll see this on the event details page > Detailing tab.

Copy Functions from One Day to Multiple Days
Finance Updates

When creating deposit types, the taxes you select will now apply to percentage deposits as well as flat deposits.
You will no longer be able to remove invoices, payments, credits, or refunds. Instead, they will be marked void. Marking an invoice void will remove all charges (so they can be rebilled) and allocations. Marking a payment, credit, or refund void will remove any allocations.

Exhibitor Ordering Updates

Exhibitor Ordering will now have access to the full AR workflow: invoicing, payments, credits, refunds, aging report, etc. To achieve this, we have merged the exhibitor database in with the regular accounts and contacts databases. Exhibitor accounts and contacts will now be included in the main account and contact lists. They will have details pages which include exhibitions rather than events and have the full financials tab, just like your other accounts.
In order to not clutter your client lists, all accounts will now have a system type: Client or Exhibitor (or both!). Based on where you are working in the app, the filtering and account creation will use the correct type. Some notes:

The Account and Contact lists now can be filtered by type. The default view and any existing saved views will include Clients only - we patched that filter to your views.
If you are creating an account on the Add Account slider on the Accounts List page, you will have to select a type (although we'll default it to Client for you). If you aren't using exhibitor ordering, you won't see the type field - we'll just apply the Client type.
On exhibitor accounts, a lead source and market segment will not be required.
The in-app Aging Report will not display Exhibitor invoices by default, but we've added a filtering option in the upper-right corner where you can choose to include them.
Exhibitor accounts and contacts will not be included in the global search, but we've added an option that you can select for them to appear.

You will be able to create exhibitor invoices from the Exhibitors tab on the event details page. Once an exhibitor is added to the event, open their details slider and you'll see the options to add an order, add a payment, and create an invoice.

Smaller Improvements

Inventory Organization:

When an inventory category is created, it is assigned a category type. You will now be able to change a category's type.
You are now able to move an inventory item to a different category.

We have replaced the image on our login page.
We have renamed the Highest Booking Status user role permission to Highest Booking Capability to make it clearer that this gives the user the ability to book events at that status.
In the Function List, the dates will include the year.
We've made various user interface tweaks and improvements throughout the application.

Fixed

On List Avails, member rooms were listed separately (rather than aggregated by event) when viewing combo avails.
When on the default Calendar Day view for the first time in a new browsing session, the start hour was the current hour and not the start of day for your account.
If rental rates for the same room shared the same rate type name, only one could be selected on events.
Tax-exempt clients on tax-inclusive accounts were not being charged the correct prices.
Users logged in before a release would see a blank screen when logging back in after the release.
We have improved the processing for the daily task digests for larger numbers of tasks. The complete number of due tasks will display in the email subject name, but we will only list 50 tasks.
The room selector will no longer appear when creating inquiries.
When merging accounts, Require Purchase Order options were not labeled correctly.
Event and function names whose details were hidden appeared on the operations view for users without hidden event access.
Some PDF previews were loading behind sliders.
When allocating payments, choosing the Remaining Payment option would allocate the payment total, not the unallocated amount of the payment.
The role slider would remain open after removing a role.
The Parent Rooms section of the room details slider wouldn't display for the first room slider you opened.
The calendar color picker background was transparent.
On price schedules, the columns were not in the same order on the Rental Rates and Edit Rental Rates sliders.
When using the global search, deleting the contents of the search field wouldn't revert the search slider to your list of recents.
When merging accounts and contacts, if you clicked Select All rather than individually checking email addresses or phone numbers, the email addresses or phone numbers were not saved.

Preview the November 2020 update!