★ Workflow for Live Entertainment Bookers
Momentus Elite gives you the ability to easily send your avails, manage your holds, and confirm those great shows! This article will give you an overview of how it all works, with links out to step-by-step directions.
In this article:
Getting Started: Settings, Task Templates, and Notifications
Before you start booking events, you may wish to do some setup and customization on your account:
Before You Book: Artist Research and Avails
Artist Research
Purchasing the right talent is easy with integrated artist research. View social metrics and tour schedules from Pollstar and Chartmetric in one powerful analytic tool. For more information see Use Artist Research.
Sending Avails
If you have the Avails permission, your calendar includes an Avails view which is easily emailed directly from Elite. Avails show tentative and definite events as well as definite blackouts. You may choose to display hold ranks, event types, and confirmed event names if you wish.
Book Holds and Events
Now it's time to get those events on the calendar! If you like to work on the monthly calendar, this is as simple as selecting your days and then clicking the event calendar icon in the lower-right corner to open the Create Event slider -- there are links below to step-by-step instructions to get you started.
Sharing Scheduled Holds
You may wish to share with a promoter the holds which they have on the books. If you would like to list them in an email, open the summary slider on your calendar, go to the Spaces tab, and click the assignment clipboard icon.
In your email, press Ctrl + V (or ⌘ + V on a Mac) and the dates, spaces, and statuses will be pasted in:
You may also create a Hold Confirmation document, which you can download as a PDF or send from Elite. For instructions, please see Create Event Summaries, Hold Confirmations, and Other Event Documents.
Manage Holds and Confirming Events
Now that you have booked holds, you'll need to manage them: confirm dates, release holds, and update holds on those confirmed and released dates. You are able to manage holds on a single event or manage holds for a day across events.
Manage Holds on a Single Event
To manage holds for a single event, we recommend using the event's Edit Spaces slider. You can access this from the calendar. Click on an event to open its summary slider and go to the Spaces tab. Click the edit pencil to open the slider. For detailed instructions, see Confirm and Release Holds on an Event.
If the event is in a series, the same functionality can be found in the Series
Edit Spaces
slider. If you're updating a sports season you may wish to use the Series Event Mass Editor. See
Edit Events in Series
for more information about the functionality of each of these sliders.
Manage Holds Day by Day Across Events
If you would like to manage holds for a specific day, use the Manage Day slider. On the month or grid calendar, click the date to open it. In this slider you'll see all booked spaces on this day, grouped by room and time.
This slider has action options which will allow you to manage your holds efficiently: Confirm and release holds, Release and promote holds, and Promote holds. See Manage Holds by Day for more information.
Viewing Released Holds
To view holds which have been removed, open the event's summary slider, and go to the Spaces tab. If any holds have been removed, you'll see a button to Show Removed spaces. Click the button to view the removed holds.
There's also a assignment clipboard icon you can click to copy and then paste the dates into an email or other document.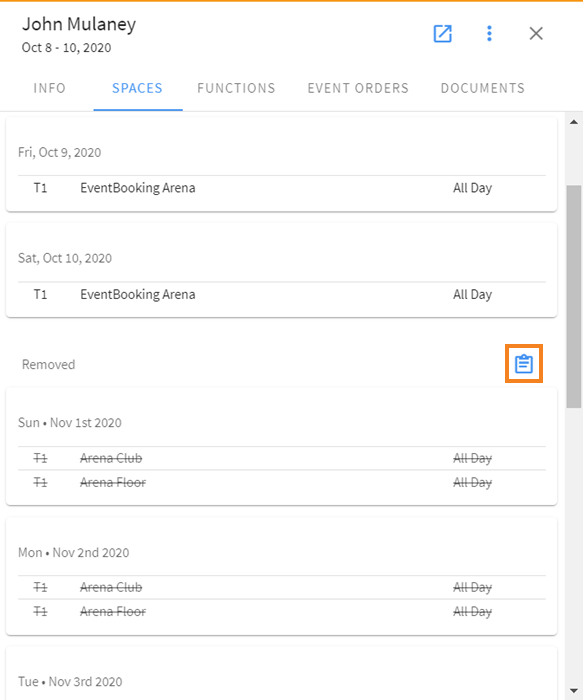 Holds by Promoter
If you have the Edit Private Saved Views or the Edit Shared Saved Views permission, you are able to see a list of all of your holds for each promoter by creating a custom event list filtered by the account. For more information on creating event list views, see Create a Custom Event List/Report.
Beyond Booking: Additional Live Entertainment Features
By designating certain event types as Live Entertainment, additional features will become available:
Live Entertainment Types: Event types are designated as Live Entertainment in the Sys Admin section. We have instructions in Manage Event Types.
Publicity Dates: Add announce, on sale, and pre-sale dates to events and series via the summary slider on the calendar or on the details page. These dates can be displayed on your calendar.
Show Schedules: Build out a show schedule using functions, designate certain functions as performances, and display relevant schedule information on the calendar. You can also track ticket sales and other information per performance.
Track Artists: You are able to add an artist to your events. This allows you to track how an artist performs in your venue, regardless of what the event is named. More info can be found in Add an Artist to an Event.
Post-Show Reports: Report on ticket counts, revenue, and attendance for each performance in your events, as well as add notes from each department. Pull all this information to a report document that can be emailed from Elite. See Post-Show Reports for more information.