★ Operations Daily View
Permissions needed:
Operations to access the page
To access event details on the page, view access to the venue is needed
The Operations Daily View allows your Ops staff to view the event details for specific rooms filtered by specific departments without having to reference event orders.
Click local_shipping Operations on the left.
The page will default to today with either your default view or the last view you used selected.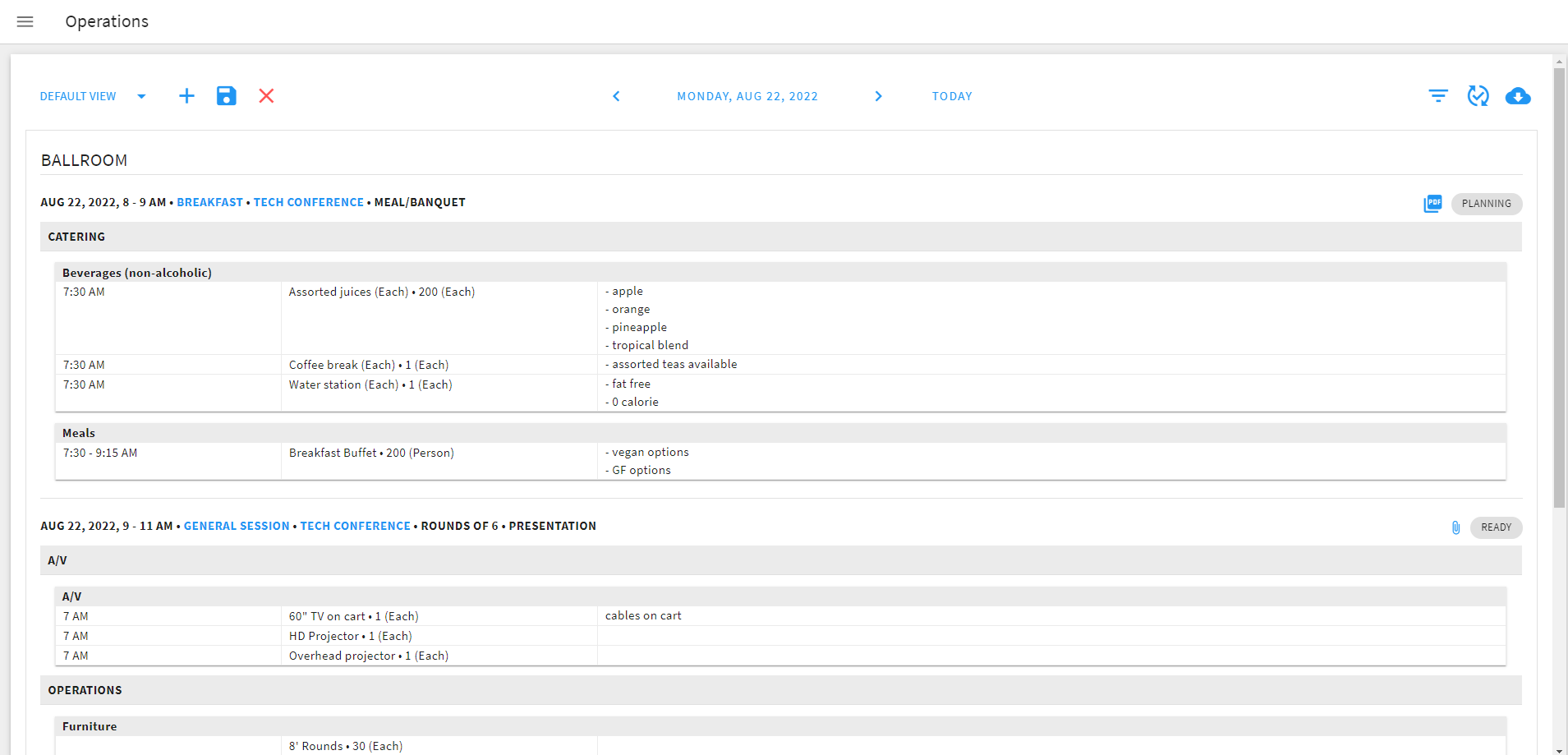 For each function (and event-wide details), you will be able to view the:
Function date and time
Function name - click to go event details > detailing with the function's slider open
Event name - click to go to event details > overview
Room setup
Room diagram - click picture_as_pdf to preview PDFs or the paperclip icon to download other file types
Function status
Department name
Category name
Item or instruction times, if applicable (event-wide items and instructions can also have dates)
Item name or instruction title
Item note or instruction description
You can now:
View a Different Date
There are three ways you can go to a different date on the Operations page.
Click the chevron_left left or chevron_right right arrows to move a single day.
Click the date to open the date picker, then select a specific date.
Click Today to go to the current day.
Change Your View and Filter Settings
Click your current view in the upper-left corner to open the list of views available to you, then select the one you want to use.
If you have either the Edit Private Saved Views or Edit Shared Saved Views permission, you can also adjust specific filter settings by clicking the filter_list filter icon in the upper-right corner.
For more information, please see the Create a Custom Operations View article.
Show Changes
Event details change tracking tracks changes to functions, items, and instructions when enabled. For more information, please see Track Changes to Event Details.
Change tracking allows you to:
View all functions or only changed functions
Select which changes you'd like to see
And the change filtering options work with the existing filtering options, so you'll be able to view changes specific to a room, department, or event. You'll also be able to save your change filtering options to a saved view, so you with one click you'll be able to view, for example, any changes in the past six hours.
Download the Ops View
To download the Ops view, click the cloud_download download icon in the upper-right corner.