VenueOps 34 - Rental Rate Updates and Real-Time Stock Alerts
We have webinars scheduled in June and July which include features released in VenueOps 34: Task Management in Venueops and Setting Up Inventory and Price Schedules. We've also scheduled an Ask Us Anything! See the webinar page on our help desk for more information and to register.
---
New
Real-Time Stock Alerts
You can now be alerted as you're detailing events when you overallocate an item. All you need to do is add a stock quantity to items you wish to track. We recommend this for durable, non-consumable items such as chairs, tables, AV equipment, etc. For more information, see this article.
Some notes:
The item must have a quantity in the inventory library (see this article).
When an item is allocated for a day, it is considered in use for the entire day, even if the function or the item itself has specific times.
Items on event-wide details are considered in use for the entire span of the event. If the item is not in use for the entire span of the event, it should be added to functions.
Items used by exhibitor orders are not taken into account.
Rental Rates
Rental rates now have two additional units: per hour and per square foot/meter (area). This is in addition to the existing "day" unit. We've updated the Adding and Editing Rental Rates article on our help desk to reflect this.
Task Templates
We've added two features to task templates:
You can choose task types in templates.
You can create tasks with dependencies. Dependent tasks will not be created until its parent is completed.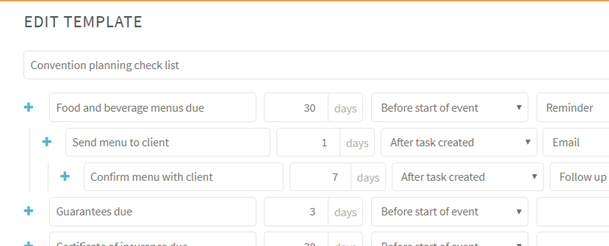 We've updated the articles in the Tasks section on the help desk to reflect these updates. Creating a Task Template will walk you through creating a template incorporating dependent tasks.
Locking Invoiced Items and Locking Events
We've added two features to event finances to lock those down a bit more:
Items which have been invoiced will now be locked after the invoice has been sent. They cannot be edited or removed from the event, and any functions with locked items cannot be removed from the event.

Items whose quantity is based on the guaranteed attendance will not update if they are locked and the guaranteed attendance is changed.
If there was an error and the item has to be adjusted to correct the invoice, mark the invoice as not sent. You will now have to have the Accounts Receivable role to mark an invoice as not sent.

Finalizing an event locks it down. No changes can be made to booked spaces, rental rates, functions, items, instructions, etc. We are now logging when an event is finalized and also when it is un-finalized - you'll see that in the event's activity log.
No Quantity Items
You are now able to have items in your library which will not require you to enter a quantity. These can be used to track closed sections, designated entry, or if you have standard instructions for certain event types. You'll flag no-quantity items in the inventory library, and when you add them to events the quantity, cost, and price fields will not be available and these items will be marked as unbillable by default. For more information, see this article.
Tessitura Integration
This release includes the first phase of our integration with Tessitura, the ticketing solution used by many of our theater and performing arts center clients. This initial integration will allow you to create an event and its performances in Tessitura based on your events and performances in VenueOps. Interested? Contact us at sales@eventbooking.com.
Improved
We've reworked the Notifications slider, and the Any notifications are in a section entitled General Notifications. These notifications can now be filtered by venue.
You are able to edit the result of a completed task.
When you copy an event, the description will be copied.
You can create internal events in Series.
If a user has activated their account and later clicks the Finish Account Setup link in their welcome email, they'll be redirected to the login page. If they don't remember their password, they can click the Forgot Password link on the login page to reset it.
Event Details

You can now attach a room diagram to a function, and it can be downloaded on the Operations Daily View. More info here.
We've added a refresh button to make it easier to update prices on an event from the price schedule.
The Edit Spaces slider from the calendar summary slider is now available on the booking tab. Click the pencil icon to access it.
You can add a description to addendums, just like you can with proposals and contracts.
You can specify a start and end date for event-wide instructions. Note that dates are not required - if you don't add any dates, then the instructions will appear in the Operations View for the span of the event.
We've added a quick copy to the function mass editor. We're calling it a quick copy because it only copies the information that you can see in the mass editor. If you do wish to copy items and instructions, you can do that with existing functionality. We've put together an article walking you through the different ways to copy information in VenueOps here.
We've added a toggle on the event order page to show/hide the list of details in each event order.

Calendar

Tax exempt accounts are labelled as such on the summary slider.
The Event ID can be displayed on the calendar.
Prospect color coding is now by proposal status rather than contract status.
If you add times to your on sale and announce dates, those will display on the calendar.
If your account has two holiday sets and the same holiday is in both sets, we'll only display it once as long as it's spelled the same. So you'll have one New Year's Day but you'll still see both Labor Day and Labour Day.

Operations

We've added an option to include all functions and rooms on the Operations Daily View. This option and the All Departments option will be checked by default when you first load the page, so you'll immediately see an overview of the day. You can then uncheck Include all functions and rooms to access the regular filtering options. For more information, see the updated Operations Daily View article.
We added the ability to upload room diagrams to functions, and those room diagrams can be accessed on the daily view.
Operations staff now have access to Dashboards.
Fixed
If a user's default room was inactivated or if their default task template was removed, they were not able to book events.
When a series was being added, the slider could get to a state where users were able to add events without rooms or a venue attached. We've added more checks and warnings so this doesn't happen.
If you scrolled to a new time frame while adding events, the calendar grid would load but the events would not.
Scheduled payments are now listed in chronological order on document templates rather than the order in which they were entered.
Deposit items are no longer listed in the Ops view.
Long payment reference numbers are now truncated on the account finance page. Click a payment to open its details slider and see the full reference number.
If an event's price schedule is deleted, you'll be prompted to select another one when the Add Items slider is opened.
In the aging report export, the 61-90 day column header was incorrect.
In the iCal feed, we recaptioned "Expected Attendance" to "Estimated Attendance" to match the caption on the calendar.
Date formatting was incorrect if an account's region was set to Chinese.
Template documents were mixing fonts in Chinese.
Pre-sale dates are now ordered chronologically on the calendar summary slider.